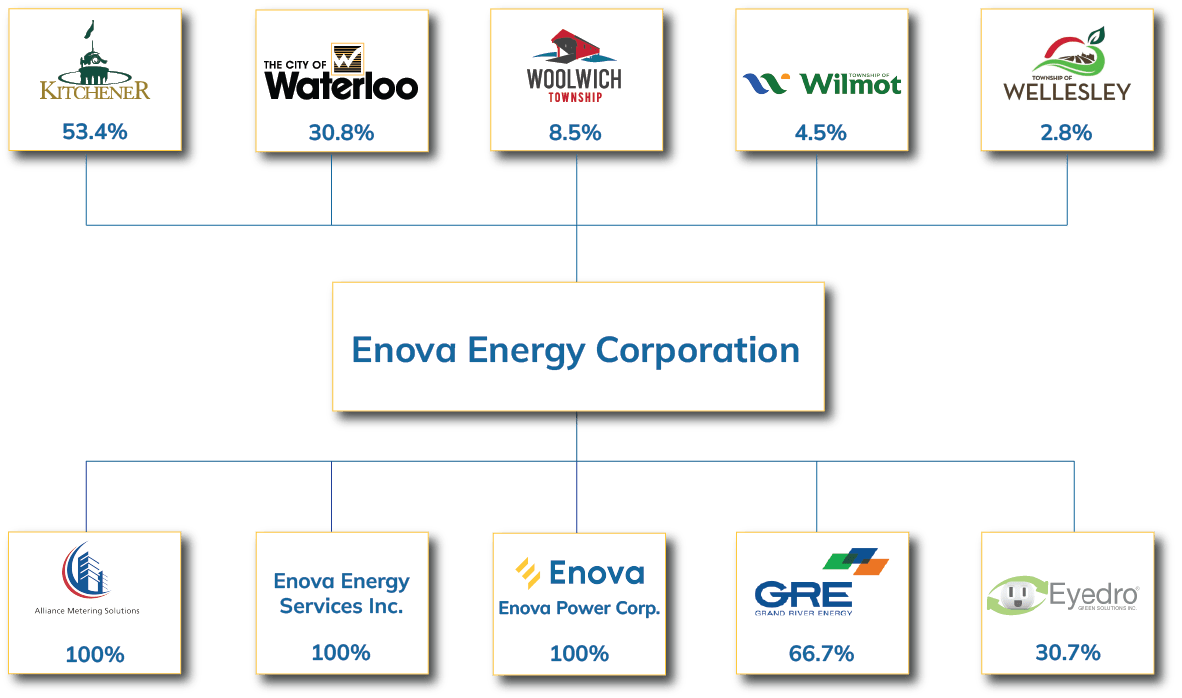 Enova Energy Corporation is an energy company with assets in municipal electricity distribution, electricity services, and renewable energy. Owned by the City of Kitchener, the City of Waterloo, the Township of Woolwich, the Township of Wilmot, and the Township of Wellesley, the company is focused on delivering what is next in energy.
Enova Power Corp. (Enova) is a regulated electricity distribution company and a wholly-owned subsidiary of Enova Energy Corporation, created by the merger of Kitchener-Wilmot Hydro and Waterloo North Hydro. Enova is the trusted energy provider, dedicated to delivering safe and reliable energy solutions that power our communities forward. Serving more than 157,000 residential and business customers in the City of Kitchener, City of Waterloo, Township of Woolwich, Township of Wilmot, and Township of Wellesley, Enova will drive what's next in energy and sustainability for our communities and beyond.
Alliance Metering Solutions (AMS) is a wholly-owned subsidiary of Enova Energy Corporation. It provides sub-metering and billing services for electric, water, thermal, and gas utilities for multi-unit complexes including residential and small businesses.  In addition, AMS provides electric vehicle (EV) chargers and EV energy management systems for residential and multi-residential applications. AMS draws upon 100 years of experience and tradition, bringing the same quality of service, accuracy, and reliability that customers have come to expect.
Learn more at alliancemetering.com.
Enova Energy Services (Enova Energy - formerly Kitchener Energy Services Inc.) provides streetlight maintenance services to the City of Kitchener and the Township of Wilmot. Enova Energy is wholly owned by Enova Energy Corporation is also positioned to provide future energy services to our customers and shareholders.
Grand River Energy Solutions Corp. (GRE) is an energy transition project investor and developer that partners with public and private sector organizations to accelerate their facility and fleet decarbonization efforts. GRE works with proven delivery partners to provide a full spectrum of design, build, finance, own, operate, and maintain services wrapped in Energy-as-a-Service packages customized to individual partner client needs.
GRE's partnership approach is built upon a long-term view, technology/vendor agnostic solutions, and applying a system lens to develop a client-specific energy transition roadmap that identifies the sustainable generation, energy storage, fleet charging, and control/microgrid infrastructure building blocks that will allow partners to meet their long-term ESG, operational, and financial objectives.
GRE's (co-)investment in client projects allows those organizations to escape the constraints of annual budget cycles and internal capital competitions to implement these sustainable system building blocks when the timing is best, rather than when capital budgets allow the investment.
GRE is jointly owned by Enova Energy Corporation and GrandBridge Energy Inc., the owners of the trusted local electrical distribution companies collectively serving Waterloo Region, Brant County, and the City of Brantford.
Learn more at grandriverenergy.com.
Eyedro Green Solutions Inc. (Eyedro) is a software and electronics design company making electricity usage easy to understand. Eyedro software is an easy-to-install, scalable electricity monitor for your home and business.  Enova Energy Corporation owns 30.7% of Eyedro.
Learn more at eyedro.com.